ACTA ANTHROPOLOGICA SINICA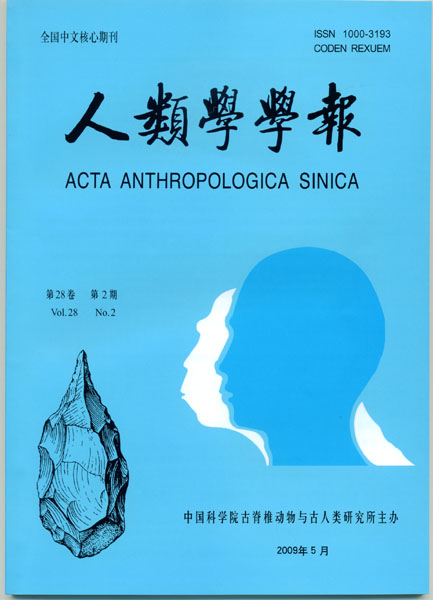 ...Enter to browse or download papers...
Acta Anthroplogica Sinica, a quarterly founded in 1982, is sponsored by the Institute of Vertebrate Paleontology and Paleoanthropology (IVPP), Chinese Academy of Sciences, and published by the Science Press, Beijing. The journal is published in Chinese usually with English abstracts/summaries.
Acta Anthroplogica Sinica is the only authoritative journal in China that focuses on physical anthropology, paleolithic archaeology and other disciplines related to them, and obtained many achievements in the study of human origins and paleolithic cultures, supporting the China's position in the world anthropology forum. Chinese paleoanthropology has a long history and has much unique advantages of geography and resource in the study of anthropology than other countries or areas in the world, the research results and theories published by the journal have great influences on the international anthropology.
The main scope of Acta Anthroplogica Sinica includes:
1) studies of origin, evolution, pathology of human and primate, biological anthropology and applied anthropology;
2) studies of prehistoric human technology, behavior and culture;
3) excavation reports of ancient human and paleolithic site;
4) researches of stratigraphy, paleontology and paleoenvironment associated with human activities;
5) applications of new technologies and new methods related to anthropology (such as dating, DNA analysis) and their results.
Article types and their readers
Articles includes research papers, excavation reports, research presentations, etc. There are four issues published in every year, respectively in February, May, August and November.
Readers are mainly domestic and foreign anthropologists, archaeologists, ethnologists, geologists, paleontologists, medical and biological workers, college teachers and students, and other related professionals in museums, etc.
Editorial Board of Acta Anthroplogica Sinica
Editor in Chief
LIU Wu: Institute of Vertebrate Paleontology and Paleoanthropology, CAS
Executive Deputy Editor-in-chief
GAO Xing: Institute of Vertebrate Paleontology and Paleoanthropology, CAS
Deputy Editor-in-chief
John W Olsen: The University of Arizona, Tucson, Arizona, USA
PEI Shuwen: Institute of Vertebrate Paleontology and Paleoanthropology, CAS
WU Xiujie: Institute of Vertebrate Paleontology and Paleoanthropology, CAS
Members of Editorial Board
Eric Bo?da
Université Paris X – Nanterre, France
CHEN Chun
School of Archaeology and Museology, Fudan University, Shanghai
CHEN Xingcan
Institute of Archaeology, CASS
CHEN Zhao
Mel and Enid Zuckerman College of Public Health, University of Arizona
GAO Xing
Institute of Vertebrate Paleontology and Paleoanthropology, CAS
Yuji Mizoguchi
HOU Yamei
Institute of Vertebrate Paleontology and Paleoanthropology, CAS
HU Yaowu
University of Chinese Academy of Sciences
JI ChengyeInstitute of Child and Adolescent Health, School of Public Health, Peking University Health Science Center
JIN Changzhu
Institute of Vertebrate Paleontology and Paleoanthropology, CAS
LI BaoguoThe College of Life Sciences, Northwest University
LI Xiaoqiang
Institute of Vertebrate Paleontology and Paleoanthropology, CAS
LIN Shenglong
Institute of Vertebrate Paleontology and Paleoanthropology, CAS
LIU Wu
Institute of Vertebrate Paleontology and Paleoanthropology, CAS
LU Daru
School of Life Sciences, Fudan University
John W Olsen
The University of Arizona, Tucson, Arizona, USA
SHEN Chen
Canada Toronto Royal Ontario Museum (ROM), Canada
WANG Changsui
University of Chinese Academy of Sciences
WANG Shejing
Institute of Vertebrate Paleontology and Paleoanthropology, CAS
WANG Yiren
Shanxi Institute of Archaeology, Shanxi Province
WANG Youping
School of Archaeology and Museology, Beijing University
WU Xiaohong
School of Archaeology and Museology, Beijing University
WU Xinzhi
Institute of Vertebrate Paleontology and Paleoanthropology, CAS
XI Huanjiu
Liaoning Medical University, Jingzhou
XIA Zhengkai
School of Archaeology and Museology, Beijing University
XIAO Chunjie
School of Medicine, Yunnan University
YANG Dongya
Department of Archaeology, Simon Fraser University
YUAN Jing
Institute of Archaeology, CASS
ZHAO LingxiaInstitute of Vertebrate Paleontology and Paleoanthropology, CAS
ZHU HongResearch Center of Chinese Frontier Archaeology, Jilin University
Managing Editor
FENG XingwuInstitute of Vertebrate Paleontology and Paleoanthropology, CAS
English Editor
Julie L CormackCanada