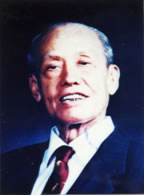 Jukang Woo(1916-2006)
Dr. Woo Jukang (Chinese: 吴汝康, 1916-2006)was born in Wujing, Jiangshu Province, and graduated from Nanjing University in 1940. He received a master's degree from Washington University in St. Louis USA in 1947. Two years later, he obtained a doctor's degree from the same university.
An expert on anatomy and anthropology, he published, in conjunction with other scientists, books such as "Human Anatomy" and "Human Anatomic Pictures". As a result of his affiliation with these books, he earned tremendous recognition at home and abroad. In the field of anthropology, he studied the Lantian ape men, Beijing ape men, Maba ape men, and Dingchun ape men. Professor Woo later discussed the imbalance in physique development of humans from ape to men.
Professor Woo is credited with creating a new academic subject, Anthropology Today. In 1980, he was elected academician of the Chinese Academy of Sciences.